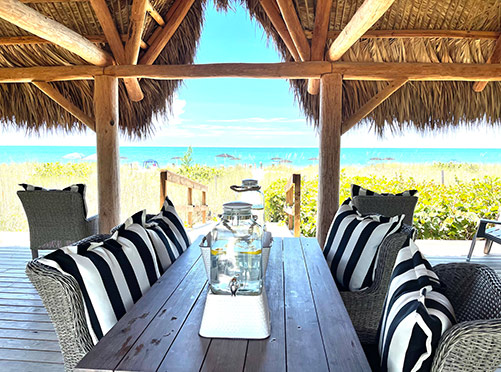 Casey Key Resort Beach Front Pavilion for Perfect Events

Need a venue for an upcoming event?
Wedding? Family Reunion? Corporate or Academic Event?
Casey Key ResortTM is a spacious 4 acre multiple separate bungalow Gulf Shore private beachfront resort property on Casey Key in Nokomis, Florida.
Learn about our Beach Front Grand Pavilion on the edge of the world at Casey Key Resort and the Gulf shores of Florida as you overlook endless horizon, white sandy beach and treat your senses with fresh salt water breeze.
Stroll or lounge on 175 feet of lovingly cared for private beach front, and have festivities on our one-of-a-kind, authentic Beach Front Pavilion.
Guests with boats enjoy boat docking on the Blackburn Bay front at our boat slips. Marina coming soon.
We welcome up to 80 lodging guests and are limited to up to 175 guests/visitors total at the property for events.
Site Fees may include exclusive use of the private beachfront and pavilion for a period of time -- OR use of the private beachfront and tenting the courtyard or beach, depending on your package selection.
All events are customizable for longer time frames and more.
There is no space to store rental equipment, so setup and tear-down must occur the same day.
Contact a Casey Key Resort Event Planner by phone or text at 941-488-6210 or email here.
Enjoy a few past event photos and our wonderful Beachside Pavilion.